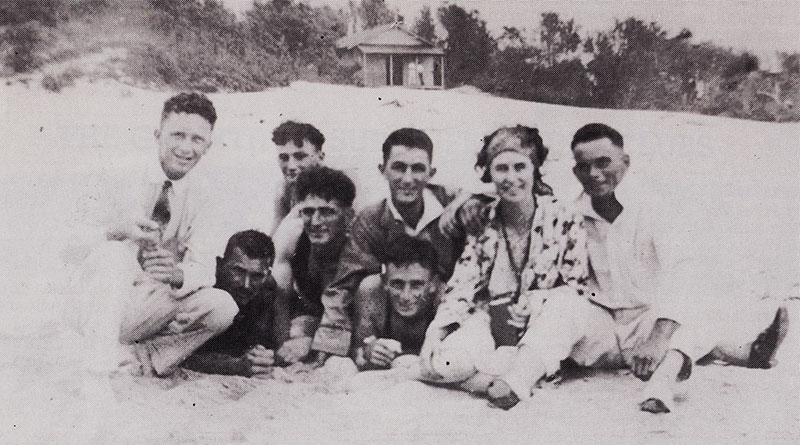 About our club
Our club began on New Year's Day in 1928 with Vic Rushby being the first Instructor and Captain of the club. His first instructing task was the training of two bronze squads of 6 men.
The first club house was built by volunteers and in today's view would be found in front of the palm tree situated in the car park.
The club's next plan was to purchase a surf boat and to build a lookout tower for sharks.
The shark tower was built in March 1928.
The surf boat was the Kingfish and arrived by the steamer Uki in 1929. This boat rescued many people in Taree West during the 1929 flood.
Photo: The First Clubhouse (background) with W.Humphries, L.Badger, J.Cornish, J.McKinnon, T. Mudford, T.Smith
Feature Flashback - Ladies Surf Club
In the early years women were unable to be actively involved in the surf movement.
In 1930 a meeting was held in a cafe in Taree to form a women's surf club. There were over 40 ladies present.
They opened their own club house 8th November 1930.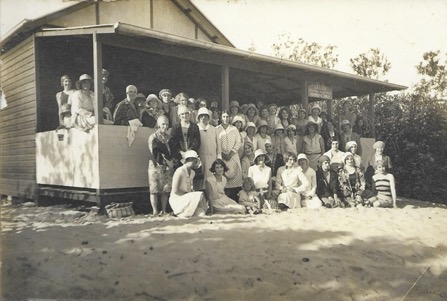 They began as a fund raising group raising funds for the men's club.
Later on resuscitation competitions were held for the ladies.
In 1931 the Taree Old Bar Ladies Surf Club formed the Old Bar Ladies Hockey Club.
The first Ladies March Past team was formed in 1952.
In 1980 the Ladies integrated with the men. Taree Old Bar Surf Club trained two women's bronze squads in 1980; these squads were the first women to patrol our beach.
Our featured flashback is proudly brought to you by 'The Beltman'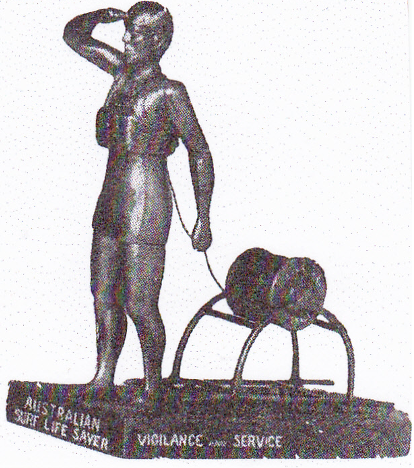 FLASH BACK - Anniversary / Reunion by Bill Hoad (1988)