Surf Sports
Surf Sports plays a pivotal role in the surf lifesaving community and aids in the development core skills. Surf Lifesavers have the opportunity to compete in a range of disciplines including ski, swim, board, sprints, flags and distance running. Competitors also have many team events that they can take part in.
These competitions are held at Club, Branch, State, National levels. Taree Old Bar SLSC supports local carnivals in our Branch.
Timing and agenda of the carnival dates for the 2021-2022 season subject to change according to the COVID-19 restrictions. At this stage, Carnival Dates can begin after 5th December. This is subject to change based on  health orders. It is being considered holding Interbranch Championships after NSW State championships. Current proposed dates are:
JANUARY 2022
Fast 5 Water January 8th - Black Head
Country Champs: 28TH 29TH 30TH January 2022 - Venue TBC
FEBRUARY 2022
Battle of Boats: 27/28th Feb 2022 - TBC
Club to Club Ocean Swim 10th April - Cape Hawke to Forster
Rock to Rock Ocean Swim Easter Sunday 18th April - Pacific Palms
To find out more email surfsports@tareeoldbarsurfclub.com.au.
Featured Surf Sport Competitor - Gary Smith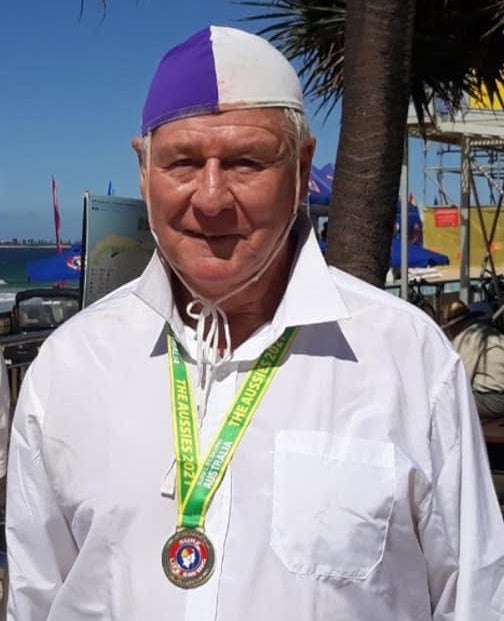 Gary began competing at 16 years of age for Bondi SLSC and found his love for surf ski racing at the age of 24 years. He has achieved greatly in the ski discipline, winning 11 NSW Surf Lifesaving titles and 9 Australian Masters titles. These national championships include the single and double ski events and the Taplin relay. Gary's most memorable achievement was winning the Taplin team event in 1994, where his swim and board teammates put him in 3rd position going into the final leg and he came from behind to take first place in a race up the beach. Gary is also the reigning over 70's double ski National Champion.
Gary has seen some changes in Surf Lifesaving Competitions over the years and noted the cancellation of Novelty events in the 1970's which included pillow fighting and chariot racing. Gary reported that he enjoys being associated with the Taree Old Bar Surf Life Saving Club due to the camaraderie of its membership and being able to give back to the community.
Recent Events
No recent events available for Sport